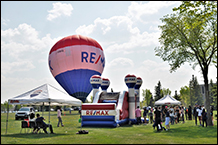 The use of the RE/MAX Special Events Team will benefit your business as well as your community. The information and materials you find in this guide have been developed to give you a full understanding of the program, how it operates and how we can help you use it to your advantage and hopefully, increase presence in the market.
The RE/MAX Special Events Team has been formed to enhance your overall marketing efforts. The balloon, tents, inflatable and jumping castle and slide are available to visit offices, fairs, festivals, schools and special events throughout Western Canada offering an entertainment destination, while raising money for local charities, enhancing media efforts or entertaining clients. It is an exciting way for your office to support the community and enhance your sales efforts.
The Hot Air Balloon and promotional products are not simply another form of advertising. They are an 'event' in themselves - creating excitement, interaction and high awareness. The balloon and collateral products hold tremendous opportunity for community relations initiatives and your 'top of mind' awareness.
The RE/MAX Special Events Team provides an opportunity to raise funds for local charities (selected by the broker office, or in conjunction with event organizers) by accepting donations for tethered rides, or the jumping castle slide as well as by offering hot air balloon rides in some cities as a prize for a raffle or auction. Typically (and preferably) the charity is a good local cause for the community, children, the sick, the elderly or someone in need.
The RE/MAX Special Events Team is a fabulous tool for helping out your local schools. The pilots are available for presentations to the students, explaining the different aspects of balloon flight, the weather and demonstrating the equipment. The school will have the use of the tents, balloon or jumping castle and slide for fundraising barbecues and your office will receive the 'top of mind' recognition in support of the school's event.
The RE/MAX Special Events Team has lots of ideas to ensure you are always "Above the Crowd!®"
There are many ways the RE/MAX Special Events Team can be used to gain recognition for a particular associate or office. Listed below are different events that RE/MAX has participated in, which should provide you with ideas for your own promotions.
Media - pitch a reporter on doing a story on ballooning
TV weather reports from the Hot Air Balloon
Grand Opening of Offices
Open Houses
Children's Miracle Network Fundraisers and Promotion
Sales Associate Farming Area Promotions
Recruiting Events
Company Picnics
Athletic Event Parking Lot Parties
Start and Finish Lines for Foot and Bicycle Races
Music/Art Festivals
School Demonstrations and Educational Programs
School Fundraisers
Office Retreats
Parades
Craft Shows
Concerts