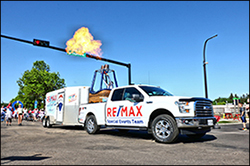 RE/MAX Special Event Team Activities
Hot Air Balloon Tethered Rides
Hot Air Balloon 'Free Flights'
Cold Air Inflatable
Foldable 10' x 10' Tent
Jumping Castle and Slide
School Fundraiser Events
School Presentations
Parade Displays
Hot Air Balloon Tethered Rides
Tethered Rides refer to the balloon actually being tied down in one spot with ropes as opposed to flying over your area. It acts as an 80 foot attraction for the event. Many people young and old will be drawn to the balloon to watch it inflate and tether. Rides can be offered to the general public (all ages), usually for a charitable donation of a "Toonie". The balloon, which can accommodate up to 2 passengers in addition to the pilot, rises up about 20 feet and hovers, then comes back down a few minutes later to give the next group a ride.
The rides are generally in the morning (from 9 or 10 a.m. until 11 a.m.) and early evenings (approximately 7 to 9 p.m.) depending on the weather and wind conditions. By midday, it is usually too breezy for the balloon to tether.
It is important for everyone concerned to realize that tethered rides can only take place when the winds are calm with no rain or thunderstorms in the area. Even a medium breeze makes it difficult to control a tethered balloon. And weather conditions can change quickly - sometimes cancelling a tether that had been OK'd only a few hours previously. For safety reasons, the tethers are therefore at the discretion of the balloon pilot.
At times, the breeze may be a bit too much for tethering, however, the pilot can actually take off and go on a "free flight" (untethered) and fly with the wind. This is sometimes done as promotion of the RE/MAX Office when tethering is impossible.
Hot Air Balloon 'Free Flight'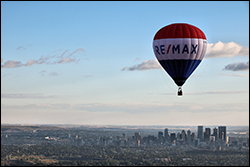 During a 'free flight' the balloon floats with the breeze, and lands in a field approximately 45 minutes later. The wind's direction and speed determine the course and length of flight. A chase vehicle follows on the ground, picks up the balloon and its passengers after landing, and returns them to their take-off spot. Watch the many onlookers who will wave as the balloon flies by or get in their cars and follow along. It's a lot of fun to chase the RE/MAX Hot Air Balloon!
It is important for everyone concerned to realize that hot air balloon flights can only take place when the winds are calm with no rain or thunderstorms in the area. Too strong of a breeze can make it difficult to control a balloon. For safety reasons, the flights are therefore at the discretion of the balloon pilot.
The hot air balloon flights can be used for media, charitable causes or VIP entertainment.
Passengers must be in good physical condition due to the possibility of a rough landing. All passengers must be able to climb in and out of the basket, stand for the entire flight and walk out of a field if necessary. We cannot fly any passenger who has had recent surgery, injuries, hip, back or knee problems, health concerns, physical limitations, is/or may be pregnant or has severe auditory restrictions. Please note: Children must be a minimum of 16 years of age and accompanied by a legal guardian. Your safety is our main concern. If any passengers are concerned with health or safety issues, they should consult with their physician or call Sundance Balloons to discuss their individual situation.

Cold Air Inflatable
There is a giant RE/MAX Cold Air Inflatable that travels with the Special Events Team. It stands 21 feet high when inflated with 'cold air' on site and is a replica of the RE/MAX balloon. It acts as a beacon for your event and to establish a presence when the balloon cannot fly or tether. It takes up an area of about 30' square and is anchored throughout your event.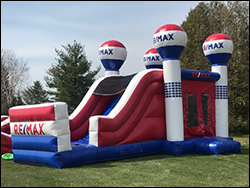 Jumping Castle and Slide
The program has the option of using the RE/MAX branded Jumping Castle and Slide! It's a fantastic attraction which is sure to draw a crowd. The Jumping Castle and Slide is 25' long, 15' high, 15' wide, red, white and blue and has 4 RE/MAX Hot Air Balloons on the top! Kids of all ages will have a lot of fun on this! This is a crowd pleaser at any kind of event.
School Fundraiser Event
Many times throughout the school year there is fundraising at your local schools. There are meet the teacher barbecues, PTA fundraisers, events to raise funds in support of underprivileged areas or disaster relief. Use the RE/MAX Special Events Team to give back to your community and help support these school fundraisers.
School Presentations
The RE/MAX Special Events Team offers elementary and high school presentations in conjunction with the program. The school visits last approximately 1? hours. Depending on the weather, the presentation may include some or all of the following: inflation and/or tethering the balloon, demonstration of the basket, burner, fuel system and instruments, the 21' inflatable, inflatable house tent and/or jumping castle and slide. If the weather does not cooperate the RE/MAX Special Events Team can do a Power Point presentation and question/answer period. The elementary school presentations cover the history of ballooning and the progression to modern hot air ballooning, the science of ballooning and the building and designing of balloons. The high school presentations also cover the history and science of ballooning, plus other elements of the industry such as: balloons as observation platforms in war, and the creation of promotional services. The RE/MAX Special Events Team School Presentations are programs that will fit into many facets of any school curriculum.
Parade Displays
In conjunction with your event you can request for the RE/MAX Special Events Team to appear in a local parade. The truck and trailer are lettered up, and you can provide staff to walk alongside the rig and hand out helium balloons and/or candy - always a crowd pleaser and local parade favorite!